What products are being recalled?
This recall involves all models of single- and dual-purpose Coaire and Quietside brand tankless gas water heaters. The recalled water heaters heat either 15 or 27 litres (4 or 7.2 gallons) of water per minute. They are white and come in the following dimension ranges: 63.5 to 71 centimetres (25 to 28 inches) tall x 38 to 48 centimetres (15 to 19 inches) wide x 20 to 35.5 centimetres (8 to 14 inches) thick. The words "S-Line Condensing" are on the top front and brand names "Coaire" or "Quietside" are on the bottom front of the recalled water heaters. (see images below)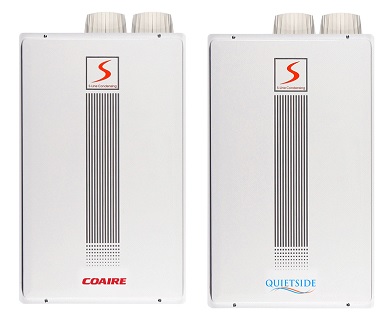 What identified hazards prompted the recall?
The water heaters can overheat, posing a fire hazard.
Have there been any incidents related to these products?
Daesung has received 40 reports of the units overheating in the United States, including four involving burns on the wall where the heater was mounted and two involving fires and property damage. No injuries have been reported. Neither Health Canada nor Daesung has received any reports of consumer incidents or injuries to Canadians related to the use of these products.
When were the recalled products sold?
The recalled water heaters were sold from July 2008 through August 2014 in Canada and the United States by independent dealers nationwide and on various websites, including Amazon.com and Amazon.ca. Approximately 2,200 of the recalled water heaters were sold in Canada and about 29,000 in the United States.
Who manufactured the recalled products?
The recalled products were manufactured in Korea by Daesung Celtic Enersys Co. Ltd. These were distributed by Challenger Supply Holdings Inc. of Fort Worth, Texas.
What should I do if my appliance is included in the list?
Consumers should immediately stop using the recalled water heaters and contact Challenger Supply Holdings to arrange for a free repair.
For more information, consumers can contact Challenger Supply Holdings toll-free at 1-800-729-6118 between 7:00 a.m. and 6:00 p.m. CT Monday through Friday or visit the Challenger Supply website and click on "Product Recall" for more information.
Consumers may view the release by the USCPSC.
Please note that the Canada Consumer Product Safety Act prohibits recalled products from being redistributed, sold or even given away in Canada.
Health Canada would like to remind Canadians to report any health or safety incidents related to the use of this product or any other consumer product or cosmetic by filling out the Consumer Product Incident Report Form.
(The above information and images come from the product recall announcement on Health Canada's website.)