Safety is a Shared Responsibility
Workers, license or permit holders, manufacturers, associations, trade unions, consumers, regulators, and government all have a role to play.
Safety requirements, risks, and participants change throughout the lifecycle of equipment
We assess what protections are in place at every stage: design and manufacturing, installation, operation and maintenance, repair and alteration, transfer of ownership, reuse to disposal.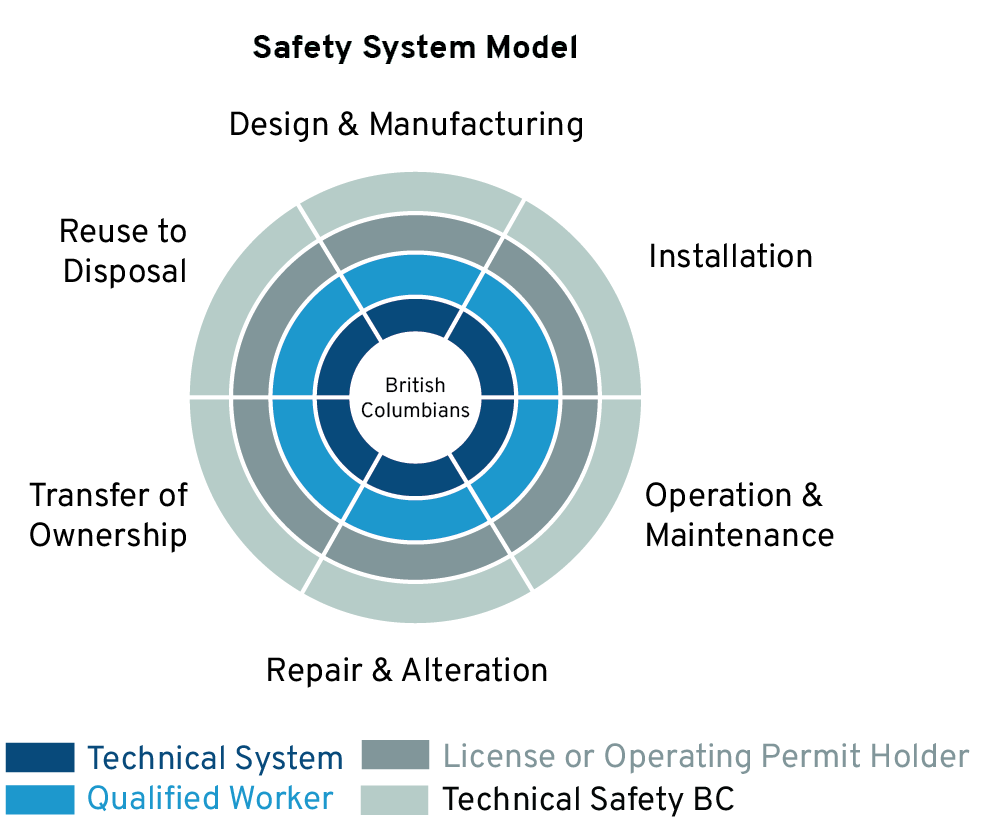 Our Values Reflect Our Vision for Safe Technical Systems. Everywhere.
We See Genius in Diversity
When we each bring our unique perspective in the spirit of collaboration and respect, our ideas get better, and our impact on the safety system increases.
We Make the Complex Simple
By simplifying what we do, we promote understanding and engagement, making safety accessible to everyone.
We Foster Confidence
We communicate directly, listen actively, explain our decisions and share what we know to build confidence in each other, our organization, and the safety system.
We Adapt
As our province changes, we create and adopt new ideas, skills and tools that enable us to meet the safety challenges of a highly connected world.
We Have Chosen Six Areas of Focus
Risk-Based Oversight
We identify, evaluate and prioritize technical safety risks.
Safety Information Ecosystem
We partner with safety-minded organizations to pool data and act on insight.
Sustainability
We prioritize the long-term health of the safety system, the environment and our organization.
Safety Behaviour
We address the decisions and behaviours that lead to technical failure.
Client Success
We deliver value to clients, lower barrier to participation, and pursue a level playing field.
Cultural Leadership
We invest in the expertise of people, and stimulate a culture that is willing and able to innovate.
We Build Capabilities in Execution That Advance Safety at Scale
Leverage field expertise, research and analytics to understand safety system risks and their root causes.
Respond to the changing environment using a human-centric mindset.
Product and Program Design
Develop interventions that deliver safer outcomes and value to participants.
Partnership and Collaboration
Work with organizations, clients and stakeholders to design and run the safety system.
Use technology to achieve scale and support data-driven decision-making.
We Measure the Outcomes of Our Efforts
Safety Behaviour
How effective are we at influencing people in the safety system to make safety-minded decisions?
Financial Sustainability
Are we managing our financial choices so that we can increase value to clients and stakeholders?
People
Is our culture enabling the performance of the organization?
Safety System Risk
How effective are we at identifying, understanding and reducing risk across the safety system?
Market Participation
Are we increasing adoption of safety products?